Our Physicians
Surgical Fellow
Physician Assistants & Nurse Practioners
Office Staff
Emeritus

Nelson, Mancini Perform No-Scar Surgery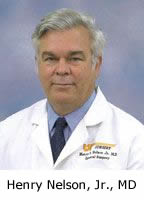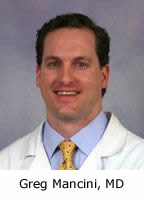 Surgery faculty Henry Nelson, Jr., MD, Professor, and Greg Mancini, MD, Assistant Professor, took minimally invasive surgery to the next level for the University of Tennessee Medical Center and UT Graduate School of Medicine, developing a technique for gallbladder removal using single incision laparoscopic surgery (SILS). Different from traditional laparoscopic cholecystectomy, SILS is performed using three instruments through one incision made in the umbilicus, leaving only a minor, hidden scar. Using the technology for the first time beginning in early 2009, to date, the surgeons have successfully used the procedure on more than 25 patients.
"No-scar surgery is the next step in the evolution of minimally invasive surgery, reducing the impact and down time patients have from surgery even more," Dr. Mancini said.
Before taking the procedure to the operating room, Drs. Nelson and Mancini took careful steps to master the technique and introduce it to patients safely. The surgeons practiced SILS, first in the Medical Simulation Center and then on animal models, to learn to use their hands in a new way.
Currently, the majority of cholecystectomies performed in the U.S. are done using minimally invasive laparoscopic surgery, which uses four small incisions to remove the gallbladder and provides minimal scarring. Prior to laparoscopic surgery, gallbladder removal was performed using open surgery.