Our Physicians
Surgical Fellow
Physician Assistants & Nurse Practioners
Emeritus
Lynn M. Castle, PA-C
Clincial Coordinator, University Bariatric Center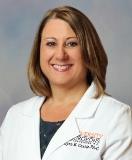 Education
BA, Bucknell University, 1985
BS, Hahnemann Medical College, 1990

Lynn Castle holds a Bachelor of Arts in Sociology from Bucknell University in Lewisburg, Pennsylvania. She attended Physician Assistant School at Hahnemann Medical College in Philadelphia, Pennsylvania, graduating in 1990 with a Bachelor's of Science degree. She worked at the University of Pittsburgh in Critical Care Medicine before relocating to Sevierville, Tennessee, where she practiced family medicine for twelve years.
Ms. Castle joined University Surgeons Associates in October 2007. She specializes in the Pre and Post weight loss surgical programs at the University Bariatric Center.
She holds a Tennessee State PA license and is NCCPA board certified and is a member of the Tennessee Academy of Physician Assistants and the American Academy of Physician Assistants. She is currently pursuing her Master's degree in counseling education.
She and her husband, Jack, live in Seymour with their dogs.