Our Physicians
Surgical Fellow
Physician Assistants & Nurse Practioners
Emeritus
Kaela E. Blake, MD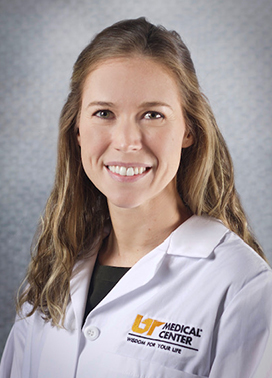 BOARD CERTIFICATION
American Board of Surgery
EDUCATION: Texas Tech University
RESIDENCY: University of Texas Southwestern Medical Center and Parkland Memorial Hospital
Fellowship I: Dartmouth-Hitchcock Medical Center – Advanced GI MIS/Bariatric Surgery
Fellowship II: Cleveland Clinic – Abdominal Wall Reconstruction and Complex Hernia Repair
Faculty Appointment: The University of Tennessee Graduate School of Medicine
Dr. Kaela Blake joins University Surgeons Associates as a minimally invasive bariatric and abdominal wall reconstruction surgeon. She is passionate to help patients with all types of hernias, difficult abdominal wall wounds, and core stability issues. Her research interests include striving to improve patient outcomes after hernia repair and abdominal wall reconstruction, and she is excited to serve the community of East Tennessee.
Dr. Blake grew up in Texas and attended college at Hardin-Simmons University (HSU) in Abilene, Texas, where she earned a Bachelor of Science degree in biology. She also played volleyball for HSU, earning All-American honors, was a finalist for the 2010 NCAA Woman of the Year Award, and was later inducted into the HSU Hall of Fame. After college, she taught high school chemistry before going to medical school at Texas Tech University in Lubbock, Texas.
Dr. Blake completed her general surgery residency at the University of Texas Southwestern Medical Center and Parkland Memorial Hospital in Dallas, Texas. After residency, she completed a fellowship in advanced gastrointestinal, minimally invasive, and bariatric surgery at Dartmouth-Hitchcock Medical Center in Lebanon, New Hampshire. Dr. Blake then completed another fellowship at the Cleveland Clinic in Cleveland, Ohio, specializing in abdominal wall reconstruction and complex hernia repair.
She and her husband enjoy hiking, camping, and kayaking with their dog, Ozzie. They are also learning how to play the drums and looking forward to growing a small vegetable garden in their backyard.