Procedures & Services:
Non-Surgical Services:
If you've struggled with obesity
most of your life...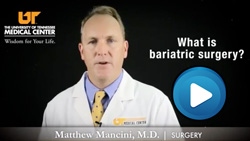 Dr. Matthew Mancini, surgeon, talk about the different weight loss or bariatric surgery procedures that are available. Dr. Mancini will answer the following questions:
What is bariatric surgery?
What are the different types of bariatric surgeries?
What are the requirements to have bariatric surgery?
Why would a patient choose one bariatric procedure over another?
What is important to consider when choosing where to have bariatric surgery?
...you know it is more than just a weight problem. It is a lifestyle problem. It is a self-esteem problem. Above all, it is a major health problem. In fact, clinically severe obesity—at least 100 pounds over ideal body weight—is classified as a serious disease.
University Surgeons Associates works with the The University Bariatric Center at the University of Tennessee Medical Center to provide a comprehensive approach to the bariatric surgery process. Its multidisciplinary team of consultants made up of surgeons, dietitians, exercise specialists and administrative staff will partner with you to provide a weight-loss program that addresses your individual needs and helps you maintain your weight loss.
Related Links and Resources