Our Physicians
Surgical Fellow
Physician Assistants & Nurse Practioners
Emeritus
Kyle L Kleppe, MD, FACS, FAAMBS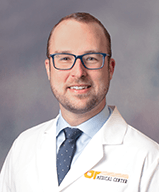 Board Certification
American Board of Surgery
Education
Medical School: Medical College of Georgia
Residency: The University of Tennessee Medical Center
Fellowship: University of Wisconsin - Minimally Invasive and Advanced Gastrointestinal Surgery, Bariatric Surgery, and Complex Hernia.
Faculty Appointment: The University of Tennessee Graduate School of Medicine
Dr. Kyle L Kleppe is a graduate of the University of Georgia in Athens, Georgia. He earned a Bachelor of Science in Biochemistry & Molecular Biology as well as Genetics in 2008. He attended the Medical College of Georgia for medical school and graduated in 2012. He completed general surgery residency at the University of Tennessee Medical Center, and during his final year, he served as the Howard C. Filston, M.D. Administrative Chief Resident.
Dr. Kleppe then completed subspecialty training at the University of Wisconsin School of Medicine and Public Health in Madison, Wisconsin. His fellowship training specialized in minimally invasive and advanced gastrointestinal surgery, bariatric surgery, and complex hernia. His training brings the unique skillset of surgical endoscopy to the practice, allowing for cutting edge treatments of gastrointestinal motility disorders including achalasia, gastroparesis, and gastroesophageal reflux disease.
Dr. Kleppe joined the faculty at the University of Tennessee Graduate School of Medicine as Assistant Professor of Surgery in 2018. He also serves as the Director of Surgical Innovation and Analytics where his research focuses on value based clinical quality improvement in healthcare. Dr. Kleppe has received the Humanism and Excellence in Teaching Award from the Arnold P. Gold Foundation. He was nominated by the UT Medical Student Class of 2017 for his demonstrated commitment to teaching and compassionate treatment of patients and families, students, and colleagues.
Dr. Kleppe is board-certified by the American Board of Surgery and is a fellow with the American College of Surgeons. He is active in several surgical societies including the American College of Surgeons and the Society of American Gastrointestinal and Endoscopic Surgeons, where he previously served on the Board of Governors and currently holds committee appointments.
In his spare time Dr. Kleppe enjoys the outdoors and aviation.