Our Physicians
Surgical Fellow
Physician Assistants & Nurse Practioners
Emeritus
Melissa S. Phillips, MD, FACS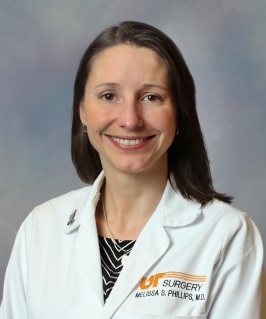 Board Certification
American Board of Surgery
Education
Medical School: Johns Hopkins University School of Medicine
Residency: The University of Virginia Health System
Fellowship: Minimally Invasive Surgery and Surgical Endoscopy Case Medical Center
Faculty Appointment: The University of Tennessee Graduate School of Medicine
Dr. Phillips is originally from Kingsport, Tennessee.  She received her Bachelor of Science degree in chemistry from Tennessee Tech in 2000 and her Doctorate of Medicine degree from Johns Hopkins University School of Medicine in 2005. Dr. Phillips did her residency in general surgery at the University of Virginia Health System from 2005 until 2010. She then joined University Hospitals Case Medical Center in Cleveland for an advanced fellowship in minimally invasive surgery and surgical endoscopy with a focus on gastrointestinal pathology.  She joined the faculty at the University of Tennessee in 2011.

Dr. Phillips is board-certified in general surgery by the American Board of Surgery and is a fellow of the American College of Surgeons. She is active in national surgical societies including the Society of American Gastrointestinal and Endoscopic Surgeons, the American College of Surgeons, and the Association of Women Surgeons.
She has been awarded the Humanism and Excellence in Teaching Award by the Arnold P. Gold Foundation, the James Ernest Kindred Award, and the Faculty Teaching Award by the University of Tennessee. She is actively involved in education and teaching courses to other surgeons and residents.

In her free time, Dr. Phillips enjoys spending time with her two girls, Emma and Everly. She is also a certified scuba diver and an outdoor enthusiast, enjoying kayaking, water skiing, and tubing. Several highlights include backpacking across Europe, camping in the Appalachians and hiking glaciers in Alaska.
Related Links and Resources
awards
Resident Teaching Award, University of Virginia