Our Physicians
Surgical Fellow
Physician Assistants & Nurse Practioners
Office Staff
Emeritus
2007 Faculty Awards
2007 Graduate School of Medicine Faculty Award Recipients
The Fourth Annual "Graduate School of Medicine Faculty Awards" were presented at the Resident Reception held June 27, 2007 at the University Club/Visitors Center. The University of Tennessee Graduate School of Medicine Dean's Office presents five annual awards to recognize and honor deserving Faculty members. The Faculty members are nominated by their Department Chairs and the Dean, in concert with the Awards Committee, selects the recipients. Dr. Henry S. Nelson Jr. was honored with the Excellence in Teaching Award.
Excellence in Teaching Award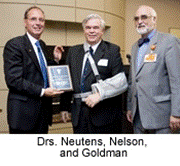 Henry S. Nelson, Jr., MD FACS
Professor and Vice Chairman, Department of Surgery
This award is offered to faculty who exhibit a strong commitment to teaching while serving as a role model to residents, students, and colleagues. In nominating Dr. Nelson, Dr. Mitchell Goldman said, "Dr. Nelson has the appreciation of the residents for his ability to find the delicate balance between autonomy and guidance and convey both his personal qualities as well as his command of the surgical literature and technique to create the all around surgeon."
Related Links and Resources