Our Physicians
Surgical Fellow
Physician Assistants & Nurse Practioners
Emeritus
Matthew Madion, MD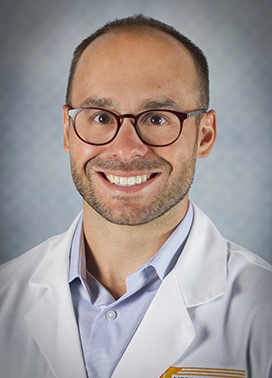 Dr. Matthew Madion joins University Surgeons Associates as the Minimally Invasive Surgery Fellow. In addition to practicing general surgery, he is receiving training in bariatrics, robotics, and advanced endoscopic techniques. His research interests include complex hernia repairs, robotic surgical techniques, resident education, and surgical device development. His practice interests focus on weight loss surgery in patients who have abdominal wall hernias.
Dr. Madion was born in Michigan and raised in Traverse City, a small town in northern Michigan. He completed his undergraduate studies in biomedical engineering at the University of Michigan. He then attended Wayne State University School of Medicine in Detroit for medical school where he participated in "shark tank" style medical innovation competitions and helped revamp the medical school curriculum. Dr. Madion was recognized with multiple awards for his innovative ideas and held multiple leadership positions within his medical school class. During his additional free time, he found an interest in woodworking while continuing to participate in intramural soccer and table tennis.
Dr. Madion recently graduated from the Medical College of Wisconsin where he completed his general surgery residency. He found early success with being awarded the coveted Iron Dog Award for best junior resident and later being chosen by his peers and mentors as the Administrative Chief Resident. During his time in residency, he worked to advocate for his peers and revamp the resident education curriculum. As a chief, he was recognized with the James R. Wallace Award for Outstanding Skill in Minimally Invasive Surgery.
He met his wife in medical school, and she now practices as a pediatrician at East Tennessee Children's Hospital. They adopted a cat, Kibo, during their time in Wisconsin and enjoy spending time together on furniture and home design, biking, kayaking, and downhill skiing. They've enjoyed exploring Knoxville and the surrounding areas and are looking very forward to being away from Midwest winters.